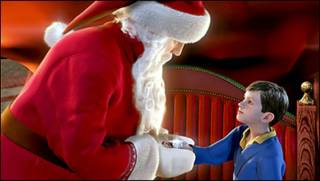 Polar Express - Warner Bros
Read Joe Siegel's favorable movie review of the new movie, Polar Express.
Now read Manohla Dargis's negative movie review in the New York Times. Was this person off their meds that day or just a sicko? Dargis compared one scene to Hitler's Nuremberg rally entrance, Santa's bag of toys to a scrotum, a toy factory to a munitions factory. Really? This is kind of garbage is what I think of when I use the term "vain intellectual".